Silent Backwater Village Trip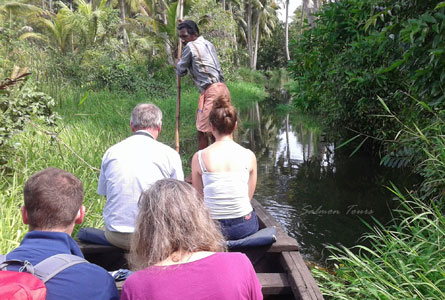 DAILY 2 TRIPS
Morning 8.30 to 1.30 pm. Afternoon: 1.30 to 6.30 pm.
Serenading shallow streams In stillness of soul-stirring tranquility
Heart-warming immersion into pristine, lush, rustic ethos of a backwater village life.
As the sturdy wooden country craft glides on a narrow rivulet meandering through coconut groves and thickets of leafy bushes and wild vegetation...
you transcend into a realm of sheer bliss – you are transported into the serene, enchanting countryside plunged in deep, impenetrable silence.
Hark, and all that you hear is the gentle rustling breeze, chirping of myriad birds and the plunge of the bamboo pole plucking and slicing into the water as the boatman propels the craft towards the island homestead hearth.
You get to mingle with simple folk living contentedly amid nature's bounty and happily offering their hospitality and ethnic specialties to honored guests.
This half-day backwater village PRIVATE tour is an absolutely unique experience – unparalleled in its endearing existential ambiance, utterly mesmerizing picturesque greenery, and unforgettable warmth of human embrace.